Finding Purpose in Suffering
Brittany Henry | Worship Leader & Freelance Writer | @BHMtweetz
This testimony is an excerpt taken from, "Finding Purpose in Suffering: One woman's journey to faith."
"I feel like everything is going to be okay. Why do I feel like everything is going to be okay? It looks really bad," I reasoned within myself. I was letting what my eyes saw dictate what I believed. I would pray and believe the LORD was working it out, but then when I went and looked at my kid, she still looked sick. In fact, she looked worse!
"Why do people keep reaching out to me, telling me the LORD told them things would be okay. Every time I come back and look at my kid, she looks worse," I thought to myself. I was walking by sight. I wasn't walking by faith, and I didn't want to believe anyone because I was afraid of being devastated when what I was praying for didn't happen. I was afraid that I would keep believing God for healing and wake up one morning to my daughters dead. I was afraid to believe, to hope, to have faith but faith was what was needed. Hope was needed.
I never had to have faith while literally staring into the antithesis of what I prayed for. It was painful. I wished I was dead. I wished the world itself did not exist for all its suffering.
"Now, faith is the substance of things hoped for, the evidence of
things not seen. For by it the elders obtained a good report. Through faith,
we understand that the worlds were framed by the word of God so that
things which are seen were not made of things which do appear
Did my faith reach beyond those things that were seen? Every day, someone I knew, through a friend of a friend, was dying. I deserved nothing. The world itself seemed to be under the wrath of God. Would the Lord heal my daughters in the midst of all this?
Brittany Henry currently serves as the worship leader at Mt. Peniel COGIC in Fredericksburg Virginia. Her new single, "Whatever It Is" is available on all digital outlets on June 22, 2020.

To learn more about her ministry please visit BrittanyHenryMinistries.org
Connect with Brittany Henry and get her single "Whatever It Is" at: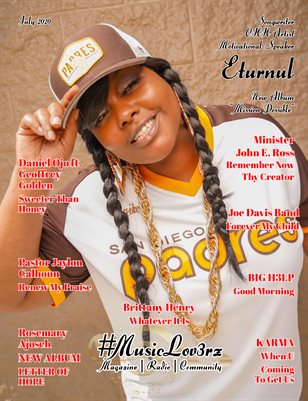 † 3x Award Nominee "Media Publication of the Year" † "Magazine of the Year" 🙏 Independent Music For The Lord of All Genres †